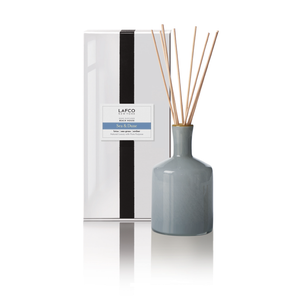 LAFCO Sea and Dune, Beach House 6oz Reed Diffuser
CALL STORE FOR PRICING AND TO ORDER: 832.252.6222
The drive took forever, but you have arrived. As the car door opens, the rush of salt embraces you. Running barefoot through the gentle hills of sand, stiff slivers of grass sneak in between your toes as a faint rumble of thunder is heard in the distance.

Watery blue lotus and beach grass settle into an amber-sand accord with a tiny hint of ginger.
Crafted with premium quality fragrances and delivered in a beautiful art glass vessel with hand-cut reeds, our LAFCO Sea and Dune, Beach House diffusers fill your home with luxurious fragrance. 
We're here for you! Please call 832.252.6222 to order and arrange for curbside pickup or free local delivery. Out of the Box, always full service and free gift wrap!
Natural Luxury with Pure Purpose™


Essential oil based fragrances deliver a natural and true scent
Highly concentrated fragrance oils are specially blended to continuously scent large spaces for up to four months
Large, natural reeds allow for a robust and steady release of fragrance

DID YOU KNOW?
Not all reed diffusers are created equally; many fragrance oils are short lasting, while LAFCO's last for up to four months.
HOW TO MAKE THE MOST OF YOUR DIFFUSER
Customize your fragrance experience by the number of reeds you use. Use fewer or more depending on the size of your space and to adjust the desired fragrance strength.
WHAT WE LIKE BEST
The scent LAFCO's reed diffusers offer is so robust, many of our customers only need one to fill their entire space with luxurious fragrance.