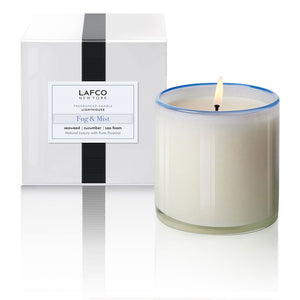 LAFCO Fog and Mist, Lighthouse 15.5oz Candle
CALL STORE FOR PRICING AND TO ORDER: 832.252.6222
Traces of algae are beginning to form on the lower steps of the new dock. Sitting on its edge, your feet dangling in the water and enjoying a glass of cucumber agua fresca, a ship's horn bellows in the distance.

Marine notes of seaweed and seafoam splash over cucumber and melon, ultimately wrapped in velvety white blonde woods and creamy white musk.
Hand poured in the USA with up to a 90 hour burn time and delivered in a handblown art glass vessel, our LAFCO Fog and Mist, Lighthouse candles are naturally luxurious. 
We're here for you! Please call 832.252.6222 to order and arrange for curbside pickup or free local delivery. Out of the Box, always full service and free gift wrap! 
Natural Luxury with Pure Purpose™


Essential oil based fragrances deliver a natural and true scent
Highly concentrated fragrances fully and evenly scent any room
Unique solid soy wax and 100% cotton wicks provide a clean, non toxic burn
DID YOU KNOW?
Many candles are made entirely from paraffin, a petroleum by-product. LAFCO wax blend is majority soy, which is naturally derived from vegetables and 100% biodegradable.
Not all soy wax blends are created equally; some soy blends contain considerable amounts of paraffin. An easy way to tell is by touching and inspecting the wax – a higher soy content candle (like ours) is hard and opaque, while a low soy content candle will be translucent and can feel soft and oily.
Once you have enjoyed your candle it will self extinguish with approximately ½" of wax remaining.
HOW TO MAKE THE MOST OF YOUR CANDLE
If you are planning to burn more than one candle at once in your home, choose fragrances from the same category (floral fragrances with other floral fragrances) for a complimentary scent experience from room to room.
Let wax melt to the edge on first burn and burn for 2 – 4 hours at a time to get the maximum number of hours out of your candle.
WHAT WE LIKE BEST
LAFCO candles are poured into colorful handblown art glass; the vessel is a beautifully designed to enhance the burning experience and can be reused as a part of your home décor.